Taste the  
difference
Live Deliciously
Locally sourced farm fresh ingredients and new menu items every month. Something for everyone's taste!
Save Time and Money
We do the meal planning, shopping, chopping and clean up. No more food waste or stressing about dinner time.
Your Own Kitchen but Better!
Assemble fabulous entrées in our well organized kitchen while listening to music and sipping a refreshment. Cooking at its finest!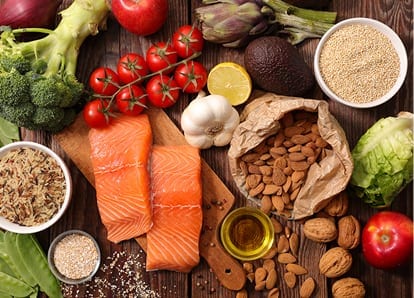 QUALITY INGREDIENTS
We use the highest quality ingredients available. Our meals are made with fresh vegetables, naturally raised meats, and beautiful fresh herbs like garlic, ginger, thyme, rosemary and parsley.
THE WAY WE SOURCE
We take pride in our ingredients, buying locally whenever possible. The less distance they have to travel to get to your plate, the fresher and healthier they'll be.
Our customers are
talking
I'm from Edmonton but I happily make the drive to St Albert to take advantage of Dinner Factory's great meal options with quality ingredients. My partner and I both work full time and with two kids there is no way we would eat as well (and as healthy!) as we do without Dinner Factory.
Staff is always so accommodating, friendly and helpful.
I got a gift certificate as a baby shower gift, and it was the best gift ever - I was able to meal prep before baby arrived, and so appreciated all the prepared meals once baby was here!
Using dinner factory when I had my baby was amazing. It really took the stress out of preparing supper.
I love coming here! The staff are friendly and helpful and nothing beats having meals in the freezer, ready to go anytime!
Great meals, great staff, great fun.
Delicious meals, great for nights when time is not on my side.
I love the ease of making dinner when I have meals already prepared and ready to cook. And having the option to stop in at the Dinner Factory to pick up something for that night's meal is great! I definitely recommend the Dinner Factory.
Love the convenience of Dinner Factory! 
I tell all my friends about Dinner Factory. For myself living alone, I find it very beneficial. Takes the guess work out of what am I cooking for dinner? I go every month and I love it. Great staff as well.
Yummy food! Great for entertaining!
I have used Dinner Factory for many years. Love how easy it is. I order online, the amazing staff prepare the food me and I pick it up! When I cook the food my house smells amazing. Thank you.
Recipe quality and variety is great! Dinner Factory is my go to for gifts for my friends with a new baby, or going through a tough time as well. Always a much appreciated and practical idea!
Staff is always so accommodating, friendly and helpful.
Dinner Factory has enabled me to feed my family quick, healthy, and home cooked meals during the busy week. Best way to supplement your weekly menu and family favourites.
The meals at Dinner Factory are much more elaborate and exciting than the competition. It takes a little longer to make, but the flavour and dishes are more flavourful and elaborate and include everything you will eat for the meal!
Fast and easy to prepare. Easy instructions to follow and meals are delicious. Love having these on hand in my freezer and is also great to take camping.
The option to have meals pre-assembled really saves me time. I love being able to pick up my meals and have such care in making sure everything is included in what I ordered.
Cheaper and healthier than takeout and delicious! 
Cooking is my job but after my husband accompanied me to your kitchen and enjoyed putting the meals together, he is so excited to cook them. Thanks for helping me out - I get a break from cooking every once in awhile!
I really like that you include vegetables in most meals. Means I don't have to prepare extra for the meals. Everything is all included!
Finally someone who gets it! We can now eat healthy while saving time. My teens absolutely love our suppers now!
It was a wonderful experience for my daughter and I. She got to be an active participant in our meal prepping and enjoyed both the prepping and tasting.
We've tried online meal box companies, but always come back to Dinner Factory. The quality and quantity of food is great, and many of the meals are ready to go straight into the oven! As a working mom, this is what I am looking for, and the online box meals just can't beat Dinner Factory on these points.
Because of our busy schedules, we were spending too much money on take out and wasted groceries. Dinner Factory finds the recipes, buys the groceries, and has given us home cooked meals again.
I'm a Mom and a busy shift worker. Having a quick and easy delicious meal in the fridge when I am short on time is invaluable.
Great variety. High quality foods that are simple to put together and fast to cook after a day at work.
Great value, excellent customer service, good variety of selections, and a fun and welcoming environment.